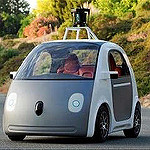 Ontario Transportation Minister Steven Del Duca recently announced that Ontario will allow companies to test Driver-less cars on its roads, starting in 2016
. Ontario is going to be the first in Canada to allow companies to test their

Driver-less

cars in a 10-year pilot project that may be extended as new technology is just in its infancy. The pilot project will bring technological innovation in Ontario by giving researchers a place to test their inventions and will certainly contribute to road safety. Many States in the US, as well as certain countries in Europe and Asia already allow testing of self-driving vehicles on their roads. Some U.K. cities have experimented with this technology in the public transport sector by using unmanned shuttles on streets closed to regular traffic. Some States in USA have passed laws allowing autonomous cars on the road. California, Florida, Michigan, Nevada and Tennessee are all paving way for innovation in this industry.

Here in GTA these cars will be allowed on any public road from Highway 401 to less congested, residential streets during any time of the day or night. Getting permit to operate or test these cars is much regulated and many conditions need to be met by the applicant before they can put their invention on the roads. It is limited to companies that originally manufactured the vehicle, technology companies, universities or research institutions Every car must have a human, with a valid G licence, behind the wheel so he/she is able to take control in case of an emergency. They must also have at least $5 million in liability insurance. Ontario is one of the best places to test such technology as we have all kinds of severe weather conditions such as "Snow storms, rainy weather, fog, poor road conditions, and potholes." Researchers claim once automated vehicles become the norm, they're expected to significantly decrease traffic accidents and the corresponding injuries and fatalities. They claim that these cars do a much better job at driving compared to humans because of superior technology.
Currently companies really only have 2 options: test on a closed track, or head to California, where there are already laws in place to promote such technological innovations. Long way from California, a small city in Ontario is aiming to test innovation in its backyard in the heart of Ontario's manufacturing industry. Stratford, a city of approximately 31,000 people 80 miles southwest of Toronto, has built a connected city over the past few years. It has roads that talk to street lights, signals that talk to cars and an industrially reliable wireless network that allows all those systems to feed data back to the tech companies operating there. This should be more than enough to attract many technology companies. This should certainly spark an interesting debate in the car insurance industry as well as in the field of personal injury law.